Srila Prabhupada's Vyasa Puja - Sunday, Sept. 6, 2015 (No Sunday Program)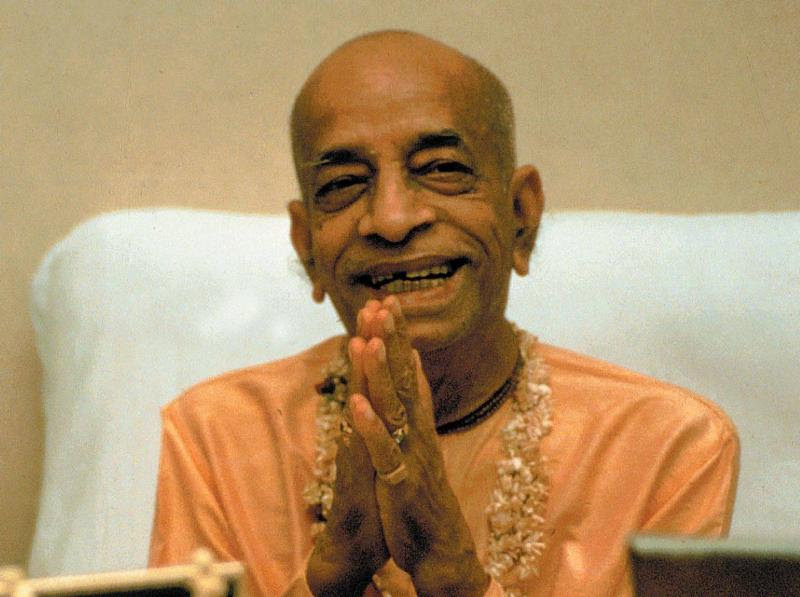 The appearance day of Srila Prabhupada, the founder-acarya of ISKCON, is celebrated as Vyasa Puja. Srila Prabhupada was born in 1896 on the day of Nandotsava (the day after Janmastami). The Vedas originate from the Supreme Lord Sri Krishna. Lord Sri Krishna imparted the Vedic knowledge to Lord Brahma, the creator of this universe. Brahma instructed his son Narada, who in turn gave this knowledge to Vyasadeva. Vyasadeva compiled the Vedic knowledge and also composed the eighteen puranas. Under the instructions of his spiritual master Narada, he also authored Srimad Bhagavatam, which is called the spotless Purana. He distributed this knowledge through out this world through his disciples. A bona fide spiritual master coming in this line of succession descending from Vyasadeva is considered a representative of Vyasadeva. Srila Prabhupada is the 32nd acharya in this disciplic succession and his disciples observe his apperance day ceremony as Vyasa Puja.
Vyasa Puja is an annual celebration by the devotees of Lord Krishna to offer homage to their guru, or spiritual master. Vyasa Puja means "worship of Vyasa," Vyasa being the compiler of the Vedic scriptures and thus the original spiritual master. The ceremony takes place on the spiritual master's appearance day (a respectful term for "birthday"). Disciples honor their guru because he authentically transmits the teachings of Vyasa.
Although the International Society for Krishna Consciousness has many spiritual masters, or acaryas, Srila Prabhupada, its founder-acarya, holds a permanent position of special esteem. So just as when he was physically present (1965 through 1977), each year his disciples and followers gather on his appearance day to praise him and recall his glories.
Schedule:
10:00 am - Offerings to Srila Prabhupada
11:45 am - Pushpanjali
12:00 pm - Arati (Guruvastakam and Guru Puja)
12:45 pm - Prasadam

Sponsorship Opportunities:
Feast - $151.00
Garlands - $101.00