Upcoming Lectures: HH Bhakti Rasamrita Swami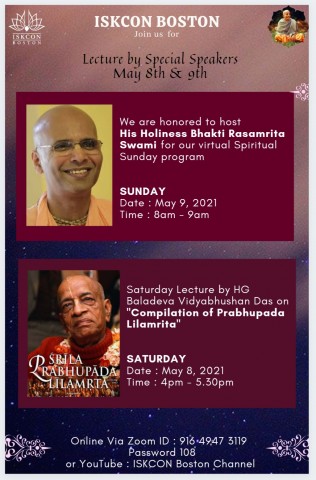 ISKCON Boston is pleased to inform that we have various esteemed guest speakers for our upcoming lectures. All the lectures will be conducted via zoom and will also be published on ISKCON Boston YouTube channel.
Upcoming Speakers:
Saturday, May 08, 2021 - 4:00pm - 5:30pm - HG Baladeva Vidyabhushan Das on the topic "Compilation of Prabhupada Lilamrita"
Sunday, May 09, 2021 - 8:00am - 9:00am - HH Bhakti Rasamrita Swami
Zoom meeting details for all our ISKCON Boston zoom meetings.
Zoom ID: 916 4947 3119
Password: 108
You can also join the meetings using a single click on the following link:
https://zoom.us/j/91649473119?pwd=N3YwdmQ1bHFDM0ZjN1JsRGxOaHp6UT09

YouTube : https://www.youtube.com/user/IskconBoston
Stay tuned for updates.